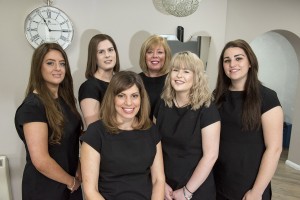 RACHEL RELIHAN – SALON OWNER/ MANAGER
In 2017 La Vida celebrated a milestone in a 15 year anniversary. With over 20 years hairdressing experience I am still very passionate about the industry and never tire of the delight on a clients face when I change their style. I thrive on a challenge and enjoy leading my team and taking the salon from strength to strength every year.
ZOE LITCHFIELD – SENIOR STYLIST
Zoe is our full time senior stylist. She has 10 years hairdressing experience with an established and ever growing clientele. Zoe enjoys all aspects of hairdressing with a vast knowledge on hair colour and excels in correcting clients own colour mistakes!
AMY BALL – SENIOR STYLIST
Amy has over 13 years hairdressing experience and has worked for our salon for 10 of those years. She works part time at the salon as she is also a mother to two children. Amy has always been a popular stylist with a very impressive client base. She enjoys a varied day of all hairdressing skills but feels most creative when she is cutting.
SHANNON CLANCY – SENIOR STYLIST
Shannon has been with the salon since she left school throughout all of her apprenticeship. She is entering her fifth year as a stylist and is proving to be a great asset to the salon. She is well thought of by the clients and team alike, and we look forward to a promising future for her.
LAUREN QUINCE – APPRENTICE
Lauren is coming to the end of her second year of her apprenticeship within our salon. She is bubbly and popular with our clients and showing great promise of becoming a good all round stylist. Lauren is keeping busy perfecting her cutting skills for the future and is looking forward to running her own column within the salon.